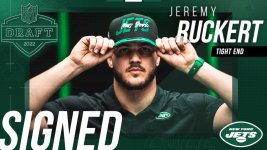 ​
Jeremy Ruckert NFL Draft Profile
Position: Tight End
School: Ohio State
Current Year: Senior
Height: 6'5"
Weight: 250 pounds
Jeremy Ruckert Scouting Report
Jeremy is an exceptional pass catcher and a willing blocker. He combines excellent catch radius with strong hands and excellent catching technique. He is a dangerous touchdown threat. He has enough route running savvy to be dangerous down the seasm, ghost into space in the house cell. He has break fluidly on shallow crossing routes. As a blocker, he is entertaining as hell. He puts everything he's got into every blocking rep, whether in-line tight end, a lead blocker or blocking downfield to extend running plays. He has at times throw guys out of the club or puts them into the dirt. He displays football intelligence to pick up uncovered players.
Areas for Improvement
Jeremy has a limited sample size as a pass catcher will inevitably to be held against him. NFL team will want to see more evidence of his ability in this regard throughout the season. He will have to demonstrate a more complete route tree than he's previously shown. Jeremy most significant area for improvement will be from a blocking perspective. He will have to improve his timing and technique which are very much a work in progress. He could add additional muscle mass, to ensure he holds up against more physical defensive ends at the next level.
Jeremy Ruckert Career at Ohio State
Committing to Ohio State was a bold move for the young tight end. The Buckeyes' offense famously offers limited opportunity for receptions and even fewer pathways to a professional career at the position.
That became apparent in a hurry for Ruckert. Although he appeared in 12 of 14 games in 2018, he barely troubled the box score. His 13-yard catch in the season opener against Oregon State was the only catch during his first year in college football.
Almost a full calendar year later, the Ohio State tight end made his second career catch. Then came his third, fourth, and fifth in a productive flurry against Florida Atlantic. Within the space of one game, Ruckert tallied 2 touchdowns, 38 yards, and 4 catches.
Jeremy Ruckert NFL Draft Player Profile
Football is frequently about maximizing your opportunity, and Ruckert seized every chance he got as a pass catcher. While he snagged a third career touchdown against Northwestern, he also flashed a penchant for the big game with a 16-yard score against Wisconsin in the Big Ten Championship Game.
Ruckert cemented his reputation for performing under the bright lights during his junior season. In a pivotal early-season clash with Penn State, he added another 2 touchdowns to his résumé. Against Clemson in the College Football Playoffs semifinal, Ruckert secured 2 more TDs as the Buckeyes trampled the Tigers in a shocking result. Although Ohio State lost to Alabama in the National Championship, Ruckert contributed a 36-yard catch on college football's biggest stage.
Ruckert's sensational late-season performances promoted him to potential NFL Draft prospect last year. However, the Ohio State tight end opted to return for his senior season. He started this year on the Mackey Award watch list, and despite not scoring a touchdown through three games, he already has 6 catches for 81 yards. Furthermore, Ruckert is averaging a career-high 13.5 yards per catch.