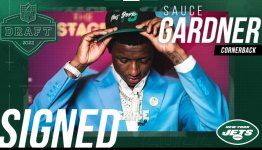 ​
Ahmad Gardner NFL Draft Profile
Position: Cornerback
School: Cincinnati
Current Year: Junior
Height: 6'2"
Weight: 188 pounds

Jets Global's Ahmad Gardner Scouting Report
Ahmad easily surpasses the baseline requirements for athleticism. He sports a long, lanky frame. He also owns exceptional length proportional to his height. He is an excellent mover. He has explosiveness while changing direction. Gardner's combination of length and closing burst makes him dangerous in multiple phases.

He always incredibly alert and aware of his surroundings. He can change initiative at a moments notice and he owns the wherewithal to position himself well against two on one opportunities for the offense. He is exceptionally quick to read and react to passes. He is fairly physical at the line of scrimmage. He has the athleticism to recover if he fails to jam at the line. Ahmad is proactive playing the ball at the catch point, and he has the length to consistently disrupt the catch process.

Gardner also possesses a great sense of timing, which enables him to convert with his physical traits. He is a sound tackler. He has good tackling from overall, and he wraps up well in one on one situations. He is also an aggressive player when come downhill. He attacks ball carriers stranded in the flats, and his explosive burst can be a death knell for receivers trying to rack up yards after the catch.

Areas for Improvement
Ahmad is not quite at the elite level. He could stand to sink his hips a bit more when changing directions to be more efficient. He is more of a leggy mover than a sudden or fleet footed corner. He improved his footwork drastically from '19 to '20. He can be overly aggressive at the line and delay his transition upfield. He occasionally gives away optimal positioning down the field. He can get caught up in congestion against overlapping route concepts. He can be more consistent dismantling blocks in run defense.

Ahmad Gardner Career at Cincinnati
Ahmad Gardner a consensus three star prospect according to 247Sports.com, ESPN.com and Rivals.com. He was ranked by 247 as Top 30 players from Michigan in the 2019 class. He was a long rangy corner and wide receiver that help lead the Crusaders to a Division III State Championship in 2018.

As a freshman, he had a breakout campaign saw him earn a spot on the 2019 Football Writers Association of America-Shaun Alexander Freshman All American Team presented by Stand Together. A First Team All American Athletic Conference selection, he was also tabbed by Pro Football Focus as third team All America selection and an All Freshman team honoree while The Athletic named him to their Freshman All America team.

Following season, he earned recognition on five All America teams including first team honors from the Football Association of America and USA Today along with second team accolades from the American Football Coaches Association, Associated Press and the Athletic. The First Team All AAC selection tied for the second in the AAC's with nine passes defended and tied for fourth with three interceptions in the regular season. In nine starts, he added 28 tackles and shared a sack. According to PFF.com, he allowed the third lowest passer rating in the FBS in coverage in 2020. He makes more plays on the ball than first downs allowed.

UC featured an elite defense which ranked in the NCAA's Top-15 in five categories, including tied for No. 3 in both interceptions (16) and No. 3 in team passing efficiency defense (101.26). The Bearcats have forced a turnover in 20-straight games, the longest active streak in the NCAA FBS, totaling AAC highs with 55 passes defended and 16 interceptions. Named to the watch lists for the Bednarik Award (RELEASE) and Jim Thorpe Award (RELEASE).

Ahmad Gardner NFL Draft Player Profile
Gardner has extreme length on the outside at corner. He is able to bump and run at the line of scrimmage in press coverage with his longer frame and is able to stay with receivers stride for stride down the field. Ahmad works well with inside leverage in man coverage, pushing guys towards the sideline and forcing difficult throws. Very willing in run support.

He has a big tackle radius because of the long arms which helps him bring guys down in space. Able to stay in the hip pocket of receivers consistently. He is extremely physical at the line of scrimmage. He consistently showed that he can blanket his matchup for an entire game.